Comet RS340-9 Colour Flexo Press
REF: BM00387
General Specification

Year 2013
Maximum Paper Width: 13.37'' (340mm)
Maximum Printing Width: 13'' (330mm)
Maximum die-cutting Width: 13" (330mm)
Printing Repeat: 7'' - 24'' (178 - 609.6mm)
Sheeting Repeat Range: 7" - 24" (178 - 609.6mm)
Die Repeat Range: 7'' - 24'' (178 - 609.6mm)
Maximum Unwinder Diameter: 50'' (1270mm)
Maximum Rewinder Diameter: 50'' (1270mm)
Hard & Ground Helical Gears: 1/8 CP,3.175mm
Maximum Mechanical Speed: 500fpm(152m/min)
Drive: 10.5 KW
Lubricating System: Automatic
Control Panel: In the front of the Press
Air Pressure: 100PSI (0.6Mp)
Power Requirement: 380VAC 3ph 50HZ
Substrate: 80-150gsm – paper. 30-150mic – film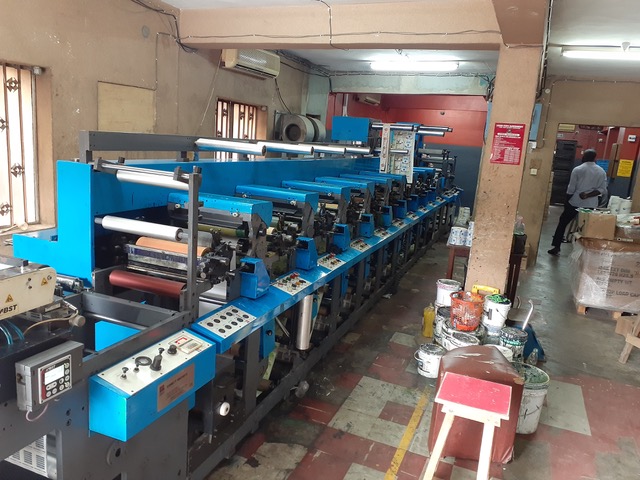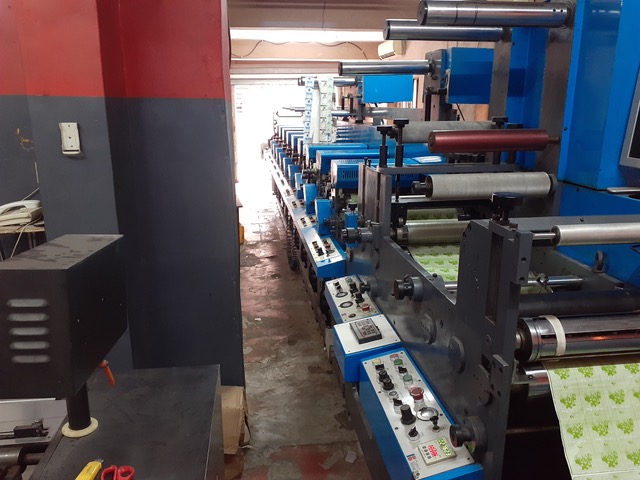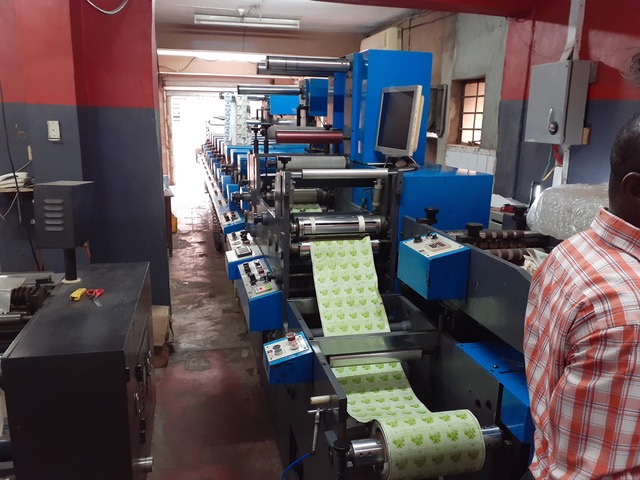 Contents

One Unwind unit 50"(1270mm) capacity, with 3"dia shaft, including electronic sensing web guide, splicing table, pneumatic roll lift and tension control system with tension transducer and electro magnetic brake.
Pneumatic mandrel 3" (76mm) diameter.

Electronic web guide, correcting continuously with great accuracy for the slightest alignment variations. (Including parameter set up control)

Programmable tension control system with tension transducer and electromagnetic brake. (Dynaspede) including two load cell units
Variable infeed: with driven motorised control (allowing for variable conversion of heavier material etc).
1 Turn bar for reverse printing (mobile between any print unit).
Delam / Relam self-adhesive labels.
9 Printing Stations (Cassette design) including laser engraved ceramic anilox rolls with helical gears, printing cylinders, and high precision ground impression cylinders.
Comet RS 340 press has a self-cleaning plate feature. This system increases the efficiency of the press by removing residual ink from the plate cylinders. The anilox and plate cylinders release alternately, transferring residual ink to the web, leaving the printing plates clean and minimizing the need of hand to clean the plates after press stops.
Auxiliary motor for anilox cylinder when the press stops
High precision ceramic anilox roll with micrometric adjustment
Cassette design in 9 printing units
Fast set-up for anilox cylinder replacement
Automatic anilox roll throw-off without loss of registry when the press stops
Double side frame
Quick removal plate cylinder without using of tools
Fine adjustment of plate cylinder
Running lateral adjustment (Manual)
Running circumferential adjustment (Manual)
Easily removable plate cylinder by extracting the shaft without the use of tools
Automatic self-cleaning throw-off without loss of registry when the press stops
Automatic plate cylinder throw-off without loss of registry when the press stops
Plate cylinder position can be changed in gear without removing the parts
Designed and built to allow an easy access to all parts, for easy cleaning, maintenance or replacement
When press stops, the anilox roll continuous to rotate. Hence avoiding permanent damage, which is caused by ink drying on the anilox surface
9 Reverse angle doctor blade system with stainless steel ink tank
Reverse angle doctor blade with fine adjustment and metering roller
9 Short High efficiency drying units including infra-red lamps, hot air blowing/suction system, can select high, medium, and low temperature hot air
Short wave infrared heating elements
Hot and cold (natural) air blowing assembly with exhaust fan

Flexible air tubing and interconnect wiring
1 UV unit for cold stamping or UV Curing, with cold mirror system suitable for paper and film, to apply the UV protective varnish in high gloss or matt finishes
9 Motorised Driven Chiller Rollers with Filton friction free rotary unions
1 Extra electronic sensing web guide before die station to ensure the accuracy of the die-cutting registration
1 Cold lamination mobile to any print unit running along a converting track
1 user-friendly control panel for each print and converting station
1 Middle air nip roll
Air operated rubber roll
Pressure regulator and indicator
Grounded steel pressure roll
1 Outfeed air nip roll station
1 Rewind unit 50"(1270mm) capacity, with 3"dia shaft, including electronic sensing web guide, splicing table, pneumatic roll lift and tension control system with tension transducer and electro magnetic brake. (1016mm)
1 Autoview, manual transverse movement, supporter with connector, 15"(381mm) monitor, 200 lines resolution, one stroboscope lamp
1 Slitting unit with 4 Rotary Slitting Blades with fine adjustment for slitting
2 Waste rewinder units
3 Rotary die-cut stations (Last die-cut station for sheeting)
1 conveyor for sheeting