Surfscan Inspection and Detection Machine
REF: BM00296
Web Width: 18", 457 mm
Unwind
Roll diameter capacity 32", 812 mm
3", 76.3 mm air expanded, electrically interlocked, unwind core locking, flange mounted shaft
Inspection / Web Viewing
40", 1016 mm long web viewing zone
Front and back frame rigidized web supporting platform
Unwind master roll splicing station
Air actuated, machine motion interlocked, web splicing clamps
Fault Splicing Station
Front and back frame supported fault removal splicing table which is adjustable along the web
Web splicing clamps
Automatic Web Guiding – Ultrasonic (Secondary)
Electronically controlled web edge guiding system with edge position sensor located after (downstream of) the fault removal splicing table, and just prior to the slitting system
Dual roller extended length web tracking assembly
Extended entry span to allow accurate tracking of web into slitting assembly
Front and back frame supported guiding table
Web Transport System
Completely front and back frame support from floor
Pneumatic operated adjustable pressure, gear driven nip roller with quick access for cleaning
Rewind
Roll diameter capacity 20", 508 mm
3", 76.3 mm, air expanded, electrically interlocked, rewind core locking flanged mounted shaft
Motor driven rewind shaft driving system including motor and manually adjustable tension control. (Please see option RTC 0001)
Reversible direction rewind rotation to allow copy facing outwardly or inwardly
Machine Power Configuration and Supplies
Main drive - 3 HP, 380-415V, 3 Phase, 47 - 66 HZ
Servo Motor with Servo Drive controller
Rewind Drive - 3 HP 380-415V, 3 Phase, 47 - 66 HZ
Servo Motor with Servo Drive controller
Unwind Drive - 5 HP 380-415V, 3 Phase, 47 - 66 HZ
Air requirements 80 - 00 Sig, 5-7 bar
Machine maximum transport speed is 935 ft/min, 289 m/min
Please note that the optimal job processing speed will vary depending upon various web pre- processing and post-processing steps and with operating environment conditions
UTO 0001 UNWIND TENSION AUTOMATIC PROFILE CONTROL
To include:
Predictive automatic dropping of braking force (torque) as the unwind roll becomes smaller during running
Automatic (operator adjustable) slowdown of machine as roll end is being reached
Automatic roll cinching reduction function - similar to that of "ABS" (automatic braking system in the automotive industry) and used to reduce braking force if the unwind roll begins to "Cinch" or tighten because it has been too tightly wound on the press
UMC-0002-I8 UNWIND MOTOR CONTROL
WRS 0002 -18 WASTE REWIND SYSTEM
To Include:
3" Air driven motor assembly
12" Rewind diameter capacity
Redirecting roller assembly at fault splicing station
3" Air expansion, core blocking rewind shaft
FRS 0005 - 18 FAULT RETRIEVAL SYSTEM
This equipment is designed for use with "VISION" systems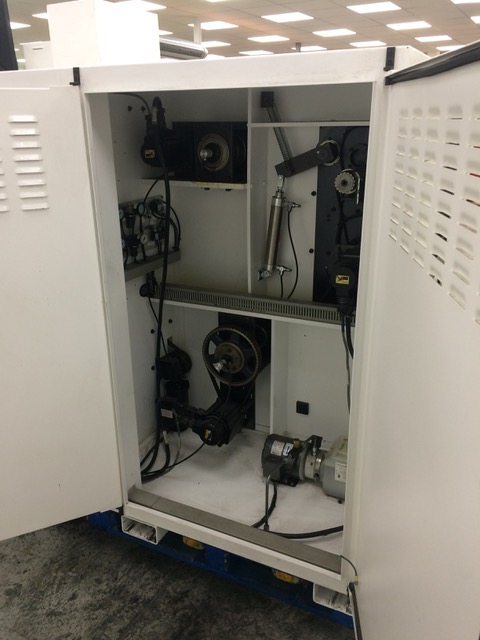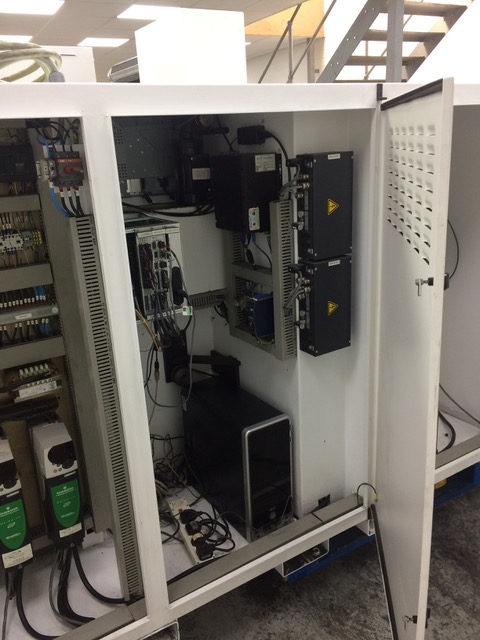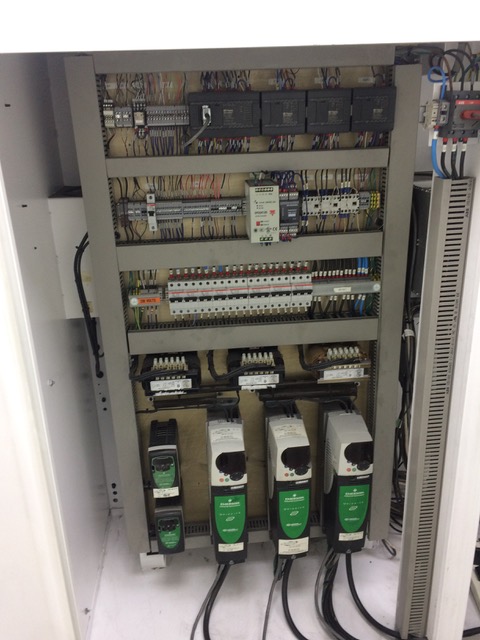 Operation Description
The unwinding web is guided (by the Primary Dual Tracking Roller Assembly and the web edge detecting automatic electronic web guiding system which is incorporated into the fault repair zone) into the camera and light source array of the Vision System.
When a stop command is issued by the Vision System, the Printrack Control System will stop the machine and will electronically follow the detected fault into the adjustable length web accumulator.
The machine can then be directed to retrieve the Vision System detected fault to a location within the fault repair zone prior to the Vision System scanning system for operator inspection / correction.
This retrieval is accomplished using the unwind motor drive controller UMC0002 to retrieve the fault back from the accumulator to the fault repair zone.
The web guide is locked while the fault is being retrieved.
Once the fault is corrected, the Vision system re-examines the previously faulty area as the machine (web) is moving forwardly again.
To include:
Fault splicing station located just prior to the Vision System camera and light source array
Fault repair assembly is adjustable along the web, in order to align tape position(s) with end of repeat cut off position
Web splicing clamps (air actuated)
Electronically controlled automatic web guiding system located just prior to the Vision System camera / light source array
Mounting of Vision System equipment camera, light source Array, monitor, key board and shaft encoder)
Power wiring to Vision System equipment
Interface provision and logic functions to accept stop command from the Vision System
LDL 0020 LABEL DETECTOR (Leuze GSU14/24L)
This detector is designed to electronically sense the label on top of the liner. The detector then feeds this variation digitally to the PRINTRACK CONTROL SYSTEM (PCS)
To Include:
Laterally adjustable detector mounting arm assembly
DES 0007 ROTARY SHEARCUT SLITTING
The rotary shear cut slitting method is recommended for use with pressure sensitive label slitting / roll finishing
The top and bottom knives run at differential speeds to one another
The knives can be easily re-sharpened
Three sets of knife assemblies (male knife, holder, springs, bolts and female knife, holder and bolts) are included with each assembly - except as noted
The knife assemblies can cut to 1/2 inch, 12.7mm, minimum slit width. Each shear cut slitting system can be laterally adjusted to +/- 3/16 inch, +/- 4.7mm (side lay)
SOR 0002 - 18 SHAFT OPENABLE RETRACTABLE UPPER SHAFT
Shear Cut Assembly (with drive fixed into machine frame)
A cam arrangement is used to unload the knives axially and then separate them so that the web can pass through the assembly
To Include:
One shaft openable upper shaft cartridge SOU 0002-18
3 shear cut rotary knife assemblies included – SRK 0001
SOU 0002 - 18 SHAFT OPENABLE UPPER SHAFT CARTRIDGE
For use with shaft openable design SOR0001-18. No knives included
The operator can transfer the cartridge to an offline setup fixture. There, the upper knife spacing can be very accurately pre-set laterally
A cam arrangement is used to unload the knives axially an then separate them so that the web can pass through the assembly
SSD 0002 -18 SLITTER SET - UP, DIGITAL
For slitter cartridge assembly complete with digital electronic measuring readout for precise knife positioning
RRS 0002 - 18 ROTARY RAZOR SLITTING ASSEMBLY
Including three knives
WAU 0002 -18 WEB ADVANCE UNIT
This system will help to shorten rewind roll changeover time, and to assist the operator to improve lateral taping accuracy
Procedure:
The rewound rolls are cut off by the operator and removed from the rewind shaft.
The operator then places new cores on the rewind shaft
The operator next activates the web advance (resetting the counter) and the lead ends of the next rolls are advanced to a position over the rewind cores for taping
RTO 0001 REWIND TENSION Automatic Profile Control To include:
Predictive automatic increase of the rewinding force (Torque) is applied to the rewind shaft as the rewind roll becomes larger in diameter
The operator can set the initial web tension at the core and the "TaperTension" which is the desired amount of tension reduction as the rewind roll sizes increase
The automatic tension controller will then take over control of the winding tension to give a smooth (non-stepped) rewind tension profile
SV 0002 -18 SURFSCAN VISION SYSTEM – INTERFACE
ACI 0002 – 18 ARGUS CODE READER - INTERFACE
PCS 0001 PRINTRACK CONTROL SYSTEM
PRINTRACK count, inspection, tension control system To include:
Touch screen operator control panel
Two channel (A and B) label signal processing or
Concurrent label and length counting function or
Total job label or length count accumulation
Job storage / recall for 250 different job configurations
Label sequence window error detection (single row)
 
Automatic Tension control in the unwinding and rewinding sections is provided by the Printrack Control System
Unwind and rewind roll diameters are constantly calculated as they change. These calculations provide automatic change of the information about the unwinding and rewinding roll's inertias. This information allows the controller to act quickly (automatically) to change torques to the moving rolls. Practical tension ranges are thus maintained during acceleration and deceleration of the machine. ( A much more comprehensive description of the complete Printrack Master Controller functions are available upon your request)