The Berkeley X9
Description
The Berkeley X9 is a 1600mm wide, 40 inch unwind diameter, 40 inch rewind diameter duplex slitter. The machine is of compact design with integral unwind, minimising the machine footprint and reducing the risk of material contamination found with machines with separate unwinds. Although the cost of an integral machine is higher due to the greater rigidity required, it is easy to move the machine without the necessity to rewire and re-align the machine each time it is moved.
The machine incorporates the latest AC FLUX VECTOR drives and AC motors with closed loop speed and tension control ensuring the highest quality of slit reels. The machine does not use hydraulics so eliminating the risk of hydraulic oil contamination.
The Berkeley X9 incorporates Total Tension Control System. This uses closed loop load cell feedback to precisely control rewind tension. The shaft-less unwind will pick up rolls of material from the floor or from a pallet and lift them to the correct height for unwinding.
All path rollers will be corked to provide good grip on the material. The integrated control system allows all aspects of the machine performance to be controlled from operator touch screen.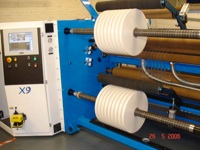 Unwind
Unwind Type: Integral Shaft-less automatic life of rolls from the floor or pallet. The arms are positioned using electric motors-hydraulics are not used preventing potential oil contamination.
Maximum Roll Diameter: 1000mm (40 inches)
Maximum Web Width: 1600mm (63 inches)
Minimum Web Width: 225mm. Our standard system uses stepped core chucks which would mean a minimum width of 225mm is achievable on 3 inch cores only.
Minimum Roll Diameter: 400mm - minimum diameter for floor pick up
Maximum Roll Weight: 1000kg
Core Handling: 76mm (3 inches)
Unwind Control: Braked with tension controlled relative to roll diameter
Brake: Pneumatic multi pad with automatic pad selection and indicator showing brake pad wear
Tension Range: 0.3-2.5 PLI
Guiding: Converter Guide 4 Digital System with the capability to line guide or edge guide. The guider unit is integrated into the machine control system making setting very simple. The guider actuator is electric preventing contamination from hydraulic oil
Guider Travel: +/- 70mm at 25mm/sec
Operator Controls: Machine speed controls, stop button and speed indicator. All guider controls and unwind arm buttons
Main Drive
Main Drive: Driven Nip Roller after the unwind and before the slitting knives isolating the unwind and rewind tension zones
Length Counter: PLC controlled, automatically stops at set length (no slowdown preset required)
Idle Rollers: Ali idle rollers are balanced and either cork covered or grooved to maximise traction and give web stability when running at high speed
Slitting
Material Spreading: A spreader roller to be positioned before the slitting knives
Slitting Types Available: Crush out, Razor, Shear
Slitting Method Supplied: Rotary shear with shaft mounted knives or additional systems can be installed from Tidland etc
Positioning System: Manual positioning
Minimum Slit Width: 40mm
Trim Removal: Machine to be fitted with trim nozzles and pipework to the edges of the machine. A trim blower is not included.
Rewinding
Maximum Machine Speed: 500m/min
Maximum Roll Diameter: 1000mm
Core Size: 76mm and 152mm ID. Machine will be supplied with a set of differential chucks for each size
Core Type: Cardboard
Max Roll Weight: 430g maximum weight per shaft provided the weight is spread across the full width of the shaft
Winding Type: Full differential shafts eith double ball differential chucks. The chucks lock to the inside of the core preventing the generation of core dust. The tension in the product is constant across the full width regardless of whether different slit widths are rewound at the same time.
Tension Control: Automatic control of tensions as the diameter of the roll changes. Our Total Tension Control System uses tension measurements from load cells to provide closed loop control of rewind tension throughout the rolls. This ensures accurate and consistent control of tension time and time again. It eliminates tension drift that occur as friction elements wear.
Tension Range: 0.3-205 PLI
Material Type: Tyvek/Paper 2.4-11.5 mil. Films 1.5-4 mil. Foils 3-6 mil
Diameter Control: Automatic control of tension as the diameter of the roll changes
Lay on arm control: The machine is fitted with full width lay on arms with gap winding capability
Drive Motors: AC Vector Motors with closed loop feedback. Each rewind shaft has a dedicated motor for maximum control. A fail safe disc brake is included for fast emergency stopping and holding the shaft stationary during roll changes.
Drive Type: Digital AC vector drives from Emerson Control Techniques with high speed communication between drives
Computacore Core Alignment System: The Computacore laser core alignment system automatically shows the correct position for the core shining a laser line on the rewind shafts. The line steps along the shaft until all the cores are positioned. An additional laser will indicate the requires knife position.
Splice Clamp: A tail clamp is located at the unwind to hold the tail of the material with splices being made on the roll
Anti-static System: Anti-static units will be fitted on the unwind and the two rewinds. The units will be from Keyence.
Machine Color: RAL 7035
Safety: Machines to be used within the EEC must be CE marked which includes conforming to the guarding requirements of EN 13418:2004. Additional laser based light barriers are added to machines for use within the EEC. Safety scanner on the rewind and physical barrier plus light guard on the unwind.
Major Components: Allen Bradley PLC, Emerson Control Techniques drives, Siemens control gear, Renova brake, SMC pneumatics, Datasensor sensors and light barrier, Sick safety scanner, Keyence anti-static
Unloading: Standard off load tree
Machine Quotation
To supply a 1600mm wide X9 Slitter Rewinder as described in this document include:
Compact high performance machine
European design and manufacture
Integral shaft-less unwind with floor pickup
Duplex differential rewind with the latest "ball chunk" technology
Color touch screen control
Standard off loading tree
Options
Unloading: Robotic off-load tree with 1000mm arms. The rolls would be pushed onto the arms. The unit will then rotate through 90 degrees to take the arms away from the machine, allowing the shafts to be re-cored and the machine started. The arms will then rotate so they are the same level and the the rolls can be removed.
Off-load Pusher: Off-load pushers for the two shafts to push the rolls off the rewind shafts onto the off-load tree.
Combination Core/Chuck Handling: 152mm ID (6inch) as well as 3 inch
Automatic Shear Knife Setting: We have developed a high speed and relatively low cost automatic knife positioning system. Two pick and place systems will independently position the top and bottom knives to an accuracy of +/- 0.1mm. A 12 knife set up would take approx 2 minutes. The same data used to position the knives can also be used for core positioning if a Computacore systems is installed.
Time Blower: Supply of trim blower, fitted with venture, to handle trims at width of 1/4 inch to 1 inch. Please note that the systems can be supplied with an enclosed fan to reduce noise.
Slack Edge Roller: First roller in web path after the unwind is fitted with cams on each side to remove slack edges in parent rolls.
Camera System: Machine to be fitted with front and rear 15" TFT Monitors, the unwind monitor displays the rewind section, the rewind monitor displays either side of the unwinding roll.
Production Report: The machine can be configures to automatically log a PDF or CSV file to a separate PC (not included in cost) which will include information, to be defined, on a running time, length of material processed, machine speed, material tensions. This information can be generated at pre-set intervals such as per set of rolls, per shift, per day etc. The exact requirements would need to be defined.
Driven Unwind: The machine can be supplied with a driven unwind. This is mainly used with very tension sensitive materials to eliminate th inertia of the roll when accelerating and decelerating.